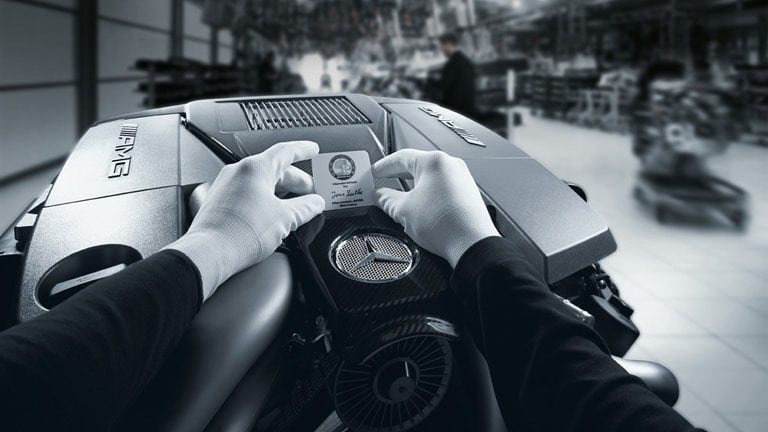 The birth of Mercedes-Benz AMG® began in the 1960s with two former engineers who were a part of the Daimler-Benz Development department: Hans Werner Aufrecht and Erhard Melcher. After creating a racing engine for the Mercedes-Benz 300 SE and watching the car go on to win the German Touring Car Championship 10 times, the pair decided to begin building high-performance road vehicles that modeled the award-winning racer. This engineering company, founded in 1967, would become known as "Aufrecht Melcher Großaspach," aka AMG®.
Visit our dealership near the Hartsfield-Jackson airport to find new and used Mercedes-Benz AMG® cars in Atlanta or stop by if you need the help of skilled Mercedes mechanics who will make sure your AMG® is treated right!
The creation of the Mercedes 300 SEL 6.8 is what helped spread the AMG® name across the world. The brawny luxury sedan competed in the 24 Hours of Spa in 1971, won in its class and took second place overall. Due to this win and everyone's newfound obsession with customization during to '70s, AMG® began to expand and left its headquarters in Burgstall for a new office space in Affalterbach. In 1984, the company officially became an engine manufacturer after Melcher developed an independent cylinder head with four valves per cylinder. This eventually led to the inclusion of the 5.0L V8 on an E-Class Coupe, known as "The Hammer," which become an icon in the U.S.

Thanks to its ongoing success in the racing world, AMG® signed a cooperation agreement with Daimler-Benz AG in 1990. The duo worked together and created the Mercedes-Benz C 36 AMG®, which debuted in 1993. This partnership continued throughout the '90s, and in 1999, DaimlerChrysler AG acquired several shares of AMG®. By 2005, the company collected the rest of the shares, welcoming AMG® into the family.

Today, AMG® has a lineup of over 20 high-performance models, including coupes, SUVs, roadsters, saloons and the first-ever model developed independently by Mercedes-Benz AMG® - the SLS AMG®. Offering first-class handling, phenomenal performance and excellent emissions, most AMG® models wear the "best-in-class" moniker. In addition to providing road-friendly vehicles, the company also continues to infiltrate the world of motorsports with representation in Formula 1 and DTM.
As your leading Atlanta Mercedes-Benz AMG® dealer, we're proud to offer a great selection of track-inspired AMG® sedans, coupes, convertibles and SUVs, all of which offer the fine craftsmanship, addictive performance and athletic styling you're looking for. If you'd like to take a look at Mercedes-Benz AMG® cars in Atlanta, Georgia, visit our dealership at 3775 Royal South Parkway near the Hartsfield-Jackson airport.